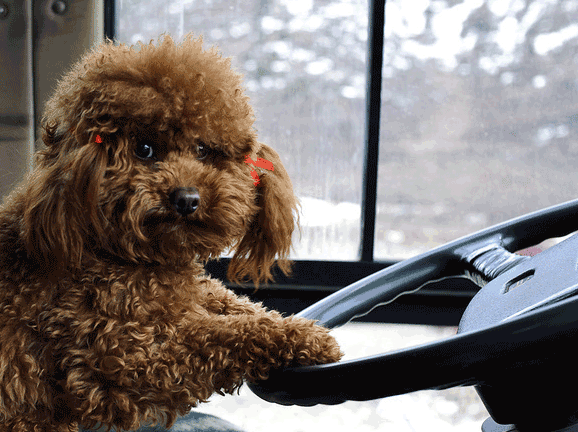 Yet another step towards equality of guide and assistance dogs has been made! On the 19th August, the Federal Ministry of Transport and Digital Infrastructure published the handbook 'Accessibility in Coaches'.
This handbook discusses the legal regulation surrounding the topic of accessibility and provides ideas about how to implement these guidelines. The regular coach services in Germany in principle should be accessible so that everyone is enabled the same opportunities for mobility and participation.
For more and more people with disabilities in Germany, 'accessibility' also means that their assistance dog is able to take part in every situation, whether it is a guide dog, a signal dog, or a service dog. Because an assistance dog stands by their owner in the most diverse situations and their help enables more autonomy and independence both on the road or travelling. The dogs can also give their owners security and confidence, which is needed when beginning a trip or being in unfamiliar situations.
According to the legal guidelines, there must be space on the bus for a guide dog on at least one of the prescribed seats for people with restricted mobility. In the handbook, a crucial addition has just been made: these regulations have now included other accompanying dogs! When booking, the person travelling should indicate that they would like to travel in the company of their assistance dog, so it can be guaranteed that there can be enough space allocated for them. Several times it is also pointed out that the regulations should also apply to other accompanying dogs (i.e assistance dogs).
The information on the topic of guide dogs and assistance dogs are found on pages 25 and 26, as well a 60 and 74 of the newly published handbook.
We hope, sooner rather than later, similar resolutions will be met in other areas, like for example in retail or hospitality,  so that people with assistance dogs can participate more in life.
Until then, we wish you all safe travels!
A blog post from Svenja Liedtke, who accompied us as an intern for 8 weeks.