---
Many people in Germany still don't know that assistance dogs can help so many different disabilities. Often it is underrated just how much they can improve the lives for their owners. When the media reports on this topic, the focus often lies on the education of the dogs and the 'tricks' they have learnt.
The experiences of the assistance dog's owners, the team work between people and dogs and the assistance dog's undivided attention towards their owner is rarely conveyed. To change this, Pfotenpiloten, a non-profit organisation, is developing an interactive exhibition, sponsored by Aktion Mensch. The exhibition will be shown nationwide from early summer 2018.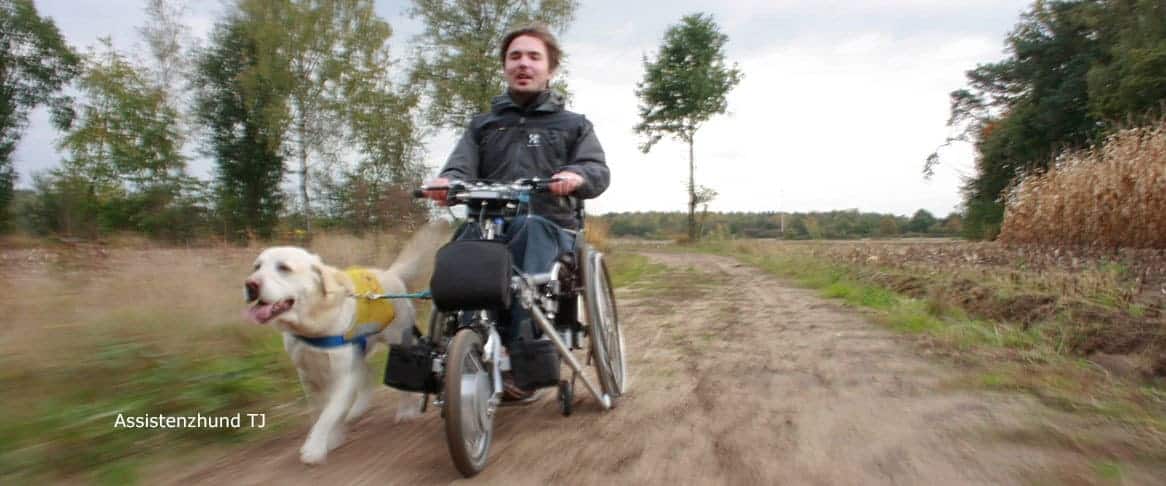 Are you an assistance dog owner yourself? Do you wish that you had more acceptance, support and right of access? Come with us! Bring your experiences, stories and wishes and help us provide an authentic report of life with an assistance dog. Your contribution is important to encourage people and institutions to be considerate around this topic and to break down barriers. You can decide the form and extent of your contribution.
What is it for?
Over the next months, we are 'on tour'. We are searching for assistance dog owners across German speaking areas for a relaxed chat. The aim of these individually designed interviews is to convey the special parts about life with an assistance dog.
The media occasionally fails to depict the reality of those affected in order to feel comfortable about the coverage. To ensure that this does not happen here, you decide: you can decide whether to erase photos/videos or a statement or in what context they are integrated into the exhibition, or whether you would like to reveal your identity etc.
These contributions will then form one of the core pieces of the exhibition. And you can of course get the footage etc. for your own personal use.
Those who are interested can also contribute to the development of our leaflets Assistance Dogs Etiquette and our access campaign.
Please feel free to contact us, even just for a chat! [email protected] oder 069-1532016-0. We look forward to getting to know you.
Background of the Exhibition
It is still too often that individuals with a disability's story is told by someone else, rather than letting them speak for themselves. The media is happy to report about wheelchair users with assistance dogs, but the topic is often communicated in a superficial way. Assistance dog owner's are often not seen as the experts on this field, even though this is the status they definitely deserve.
Assistance dog owners are a marginal member of society: their necessities differ from people who own dogs for their own enjoyment, and also from people who live with the same disability, but without a dog. An active community and a supporting/self-supporting network is important to enable a mobile life for more people with assistance dogs. There are still many gaps in legislation, access rights and public relations, which can be better when these gaps are closed
Supported by video and audio and interactive pieces, visitors can learn about the exhibition "Mit Hund Mobil", understand how the team work between the assistance dog and owner functions, and therefore why they need the support from everyone.
The key to full acceptance is to destroy any barriers that have been created. Unfortunately, lack of information still causes many unnecessary barriers that hinder assistance dog owners. Lack of awareness around the differences between regular dogs and assistance dogs can lead to conflicts, problems with right of access and an unnecessary hindrance for both the assistance dog and its owner. Even 'well intentioned' actions can harm the team. For instance, the dog can become distracted.
Many assistant dog owners report that children in particular have often not learned how to handle the dog or disability properly. Even some dog-friendly cultures often need guidance to understand the particular role of the assistance dog.
For assistance dog owners, it is very exhausting having to constantly inform people about their situation. A brochure that briefly and clearly informs about rights, rules of conduct and typical questions, thus avoiding misunderstandings, is therefore also part of the exhibition.
This handy brochure "Assistance Dog Etiquette" is being developed as well as the exhibition itself in cooperation with assistant dog owners. They will be available free of charge during the events as well as directly from Pfotenpiloten. It is also available to assistant dog owners for helping in everyday life.
Aktion Mensch promotes projects for those with disabilities, children, and young people. It is committed to initiatives that pass on opportunities and contribute to the equal coexistence of people with and without disabilities. Thank you for your support!
"This seems like a great idea! Every application and grant approved by us is supported by the conviction that it is a useful and supportive project that specifically improves living conditions and promotes inclusion".Friedhelm Peiffer, Leiter des Bereichs Förderung der Aktion Mensch