Why 29 January is Remembrance Day
January 29, 1929 is the day that the oldest guide dog school still active today, The Seeing Eye, was founded. Morris Frank, its founder, is featured here. The arrival of the first guide dog in the United States was a sensation. Morris Frank and Buddy completed their training in Vevey, Switzerland, and sailed into New York Harbor on June 11, 1928. Members of the press were on the dock to greet them. A cynical newspaper man challenged Frank to cross the treacherous West Street. Unaware of the extremely dangerous traffic, Frank gladly complied.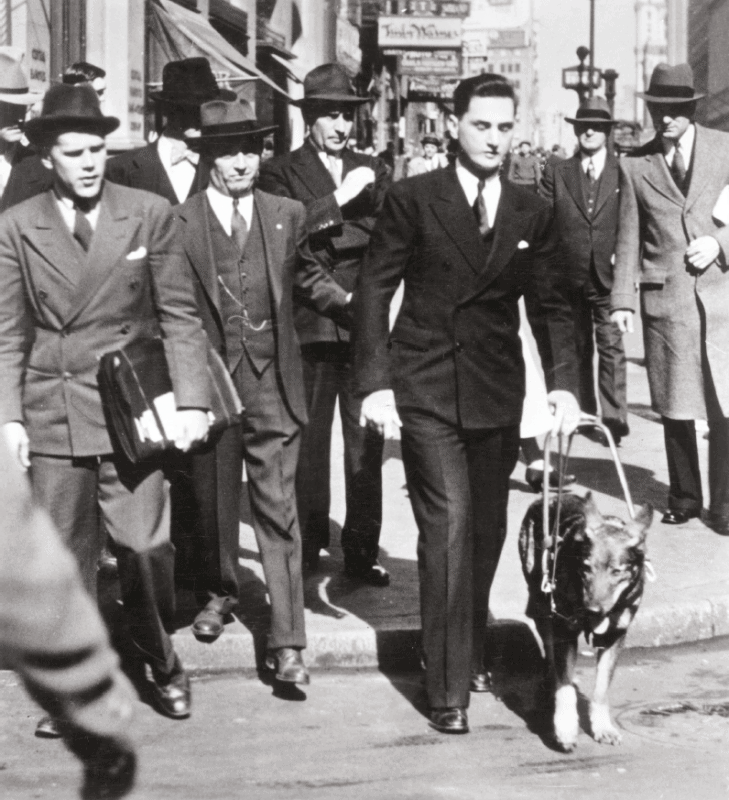 "I lost all sense of direction and left myself entirely to the to the dog. I will never forget the next three minutes. Ten-ton trucks sped by, cabs honked in our ears, drivers yelled at us. When we finally got to the other side and I realized what a great job she had done, I leaned in. I hugged Buddy and told her what a good, good girl she was. The media was impressed."

Morris Frank
Here are a few original recordings by Morris Frank, the first guide dog owner in the U.S. and founder of "The Seeing Eye" (audio descriptions and subtitles in English).
Here is the link to the Disney adaptation of the life story of Morris Frank "Love Leads the Way" (English original version). The American classic from 1984 ends at 1:33:35, when the text is unrolled. After that, the copy shared here from Youtube repeats various scenes for two hours – so turn it off after 1 hour, 33 minutes….
While this dog school may have been the first in America, the origins for guide dog training can be found in Germany, in Oldenburg. The chairman of the German Association for Ambulance Dogs, Heinrich Stalling, founded the world's first guide dog school in 1916, still in the midst of the First World War. In October, the association gave the first trained guide dog to the blind soldier Paul Feyen.
In 1923, the second guide dog school was then opened in Potsdam by the German Shepherd Dog Association, which was able to hand over the 1000th trained guide dog to its new owner just 10 years after its founding. If you are interested in the history of guide dogs, you can find details in the book "Blindenführhunde – Cultural History of a Partnership" by Detlef Berentzen.