DogMap App for dog owners and assistance dog handlers Plus: A raffle from August 2nd – 16th, 2020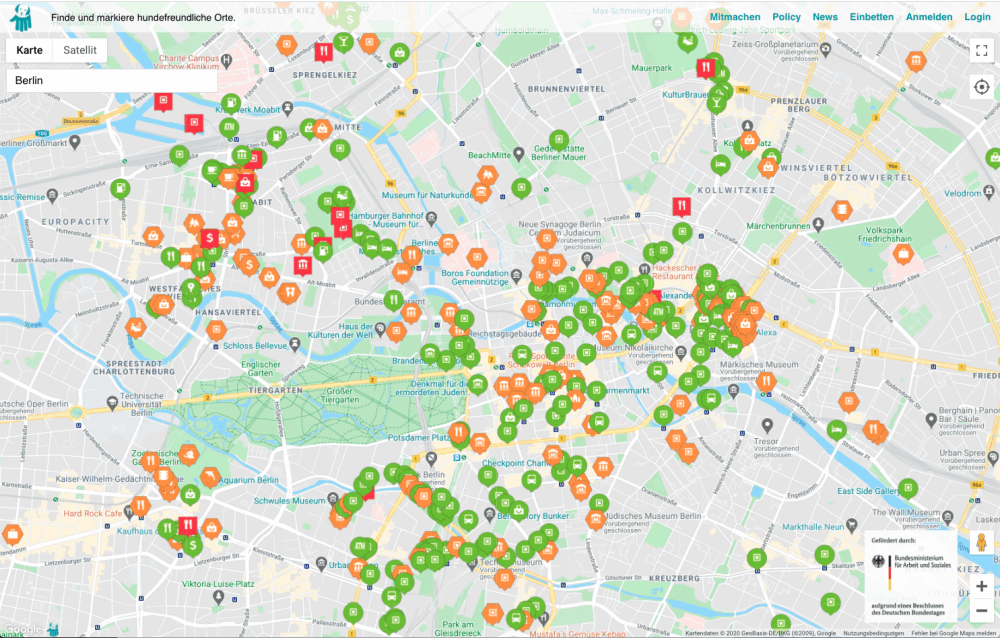 On DogMap you can mark places with "dog-friendly", "assistance dog-friendly" or "access barrier" – all over the world. At the beginning of the competition, we had a target of 50,000 entries – and we achieved it in the first week. That's why we are hereby increasing our annual target for 2020 to 100,000 markers on DogMap
Started on Aug. 2nd, International Assistance Dog Day, the contest invites dog and assistance dog owners to mark familiar places, because: The more people actively use the DogMap and make entries, the more valuable it becomes for everyone.
The 300 most active "Dogmappers" will have a chance to win one of 90 prizes!
How does the contest work?
1 – Download DogMap or open DogMap.info.
2 – Create and confirm your own account (if you have already made entries, it is best to use the same device).
4 – Check the box for the contest
5 – Also check the box for the newsletter and "Like" on Facebook.com/Phot Pilots/ so that you always get the latest news.
6 – Confirm the registration email.
7 – Mark all the places you have experience with on the map.
8 – On Sunday, August 16, 2020, 4pm CST, we will determine the 300 most active participants and at 6pm we will draw the following 90 prizes:
| | | | |
| --- | --- | --- | --- |
| | | 10 x 1 beaded leather collars with brass buckles: Of the finest quality and completely handmade www.PfotenPiloten.org/halsbandCoupons for Fressnapf.de: 5 x 50 Euro coupon 25 x 25 Euro coupon 50 x 10 Euro coupon | |
Background information:
DogMap.info is an interactive web-app created by Pfotenpiloten.
The DogMap works worldwide.
It works in any Internet browser and in German, English, Spanish, French, Russian, Czech, and Romanian.
It can be embedded in your own website free of charge and with only one line of code (terms of use).
Free of charge at Google Play Store and at the Apple Appstore.
Dogmap.info is part of Pfotenpiloten's accessibility campaign, "Assistance Dog Welcome" – funded by the Federal Ministry of Labour and Social Affairs (BMAS).
The collected data is permanently available to the public, free of charge, and shared with other projects relating to accessibility via the Sozialhelden's Accessibility Cloud.
Why we created DogMap:
People with disabilities have a right to participate in life without barriers. Law and fairness demand this. Ten years ago, the Federal Republic of Germany signed the UN Convention on the Rights of Persons with Disabilities (UN-BRK). People with disabilities are guaranteed the right to animal assistance in articles 9 and 20. Other than the well-known guide dog for the blind, there are assistance dogs for a variety of impairments. Assistance dog handlers, however, are often denied access because of their assistance dog. DogMap is intended to create increasing accessibility for assistance dog teams and is also a very useful, free app for all dog owners.
Who is behind the DogMap?
Pfotenpiloten is committed to making it easier for people with disabilities to get a fresh start with a well-trained assistance dog. We do not train assistance dog teams ourselves, but, as an independent non-profit organisation, we establish important foundations for acceptance and support.
The core of our work lies in the independence of our organisation. Pfotenpiloten and the Assistance Dog Foundation, which is currently being established, act as mediators between the parties involved. Through public relations, quality management, and promotion, we establish sustainable structures in the hitherto unregulated sector.
Infos zur Zutrittskampagne: www.pfotenpiloten.org/aw
DogMap im Browser: Dogmap.info
Android Play Store: play.google.com/store/apps/details?id=com.pfotenpiloten.dogmap
Also listed in Apple App Store under "DogMap".